For draft prospects and spectators alike, the multitude of events scheduled for the next several days can prove to be quite overwhelming. With a whirlwind of events scheduled for different position groups on different days, it's easy to lose track of what each day will hold in Indianapolis.
Fortunately we've got you covered, with a breakdown of each day's events.
Wednesday, February 20
Day one of the NFL Combine will in many ways be the "calm before the storm". Special team players, offensive linemen, and tight ends will arrive in Indianapolis. Players in these groups can start the interview process with NFL teams, but otherwise it will be an uneventful day.
What to Watch For: Can OG Kyle Long (Oregon) show that he's got a football IQ to match his athleticism? Will TE Travis Kelce (Cincinnati) prove to NFL teams that he's grown since his year long suspension in 2010?
Thursday, February 21
Thursday will see the offensive linemen, tight ends, and special teamers go through the measurement and medical check process. These groups will also get their time in front of the cameras in media interviews and will also have the chance to again talk with NFL teams.
The quarterback, running back, and wide receiver prospects will be arriving to the Combine and will also being their interviews with coaches, scouts, and general managers.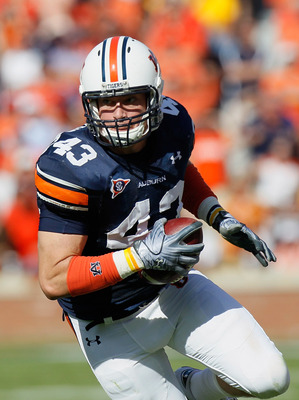 What to Watch For: TE/H-back Philip Lutzenkirchen was in many ways the heart and soul of Auburn's team before a hip injury ended his collegiate career early. The hip injury kept him out of the Senior Bowl, and teams will be interested to see how his recovery is progressing.
Numerous quarterback and wide receiver prospects will be facing some tough questions during their interviews. Can Geno Smith (West Virginia) and Tyler Wilson (Arkansas) impress teams enough to distinguish themselves from the rest of the quarterback class? There's no doubt that coaches will be interested to hear about wide receiver Marquess Wilson's early departure from Washington State.
Friday, September 22
Friday will likely see some of the highest Wonderlic exam scores posted as the offensive linemen, who traditionally score well, will undergo the mental testing portion of their week. Joining them will be the specialists and tight ends. Place kickers will do their on the field work, and everyone in these groups will do the bench press.
Running backs, wide receivers, and quarterbacks will get their turn to be poked and prodded as Friday will be their day for medical testing.
Defensive linemen and linebackers will also arrive on Friday, and they'll join the other prospects in getting their interviews underway.
What to Watch For: Without a doubt, the biggest thing to come out of Friday's testing will be the medical status of several key prospects. Marcus Lattimore's (South Carolina) recovery from that brutal knee injury is rumored to be ahead of schedule, but this will be the first chance for teams to find out for sure. Teams will also be anxious to get a peek at quarterback Matt Barkley's (Southern Cal) shoulder and wide out Keenan Allen's knee, which is recovering from a PCL injury.
There may not be many more interviews more uncomfortable than the ones linebacker Alec Ogletree (Georgia) will be experiencing. With a recent DUI arrest and several other off the field issues in the past, he's likely to be grilled this week. Team's will have to like what Southern Methodist defensive end Margus Hunt has shown on tape. Having grown up in Estonia and only having played football since 2009, they'll want to get a feel for his football knowledge, though.
Saturday, February 23
The offensive linemen, tight ends, and specialists will leave Indianapolis on Saturday, but not before going through their on the field workouts.
Quarterbacks, running backs, and wide receivers will be putting up reps on the bench press as well as mental work in their physiological testing.
The defensive linemen and linebackers will be going through the medical checks, and the final position group,
the defensive backs, will make their way to the Combine.
What to Watch For: Some of the largest of the Combine's participant are getting their workouts in on Saturday, but that doesn't mean there won't be some impressive performances turned in. Offensive tackle Menelik Watson (Florida State) is likely to steal the show among the offensive linemen, and Travis Kelce (Cincinnati) could put up freakish numbers as well.
Injury checks will be crucial here for many players, including Oregon's Dion Jordan. A good report on his shoulder good make him a lock to be a top ten pick. New world on linebacker Jarvis Jones's (Georgia) outlook dealing with spinal stenosis will be absolutely critical as well.
Sunday, February 24
Sunday will be one of the most anticipated days of the week as the quarterbacks, running backs, and wide receivers will hit the field for their timings and positional drills.
The defensive linemen and linebackers will spend their Sunday with the Wonderlic exam and the bench press, and the defensive backs will go through their medical exams.
What to Watch For: Quarterbacks Tyler Bray (Tennessee) and Matt Scott (Arizona) both have quite a bit riding on their workouts on Sunday. Bray needs to show that he can be accurate consistently, and Scott needs to show some tweaks to his mechanics.
40 yard dash times are over-analyzed every year, but there's still plenty riding on them as well. Montee Ball (Wisconsin) could see his stock plummet if he puts up a poor time, while wide receiver Robert Woods (Southern Cal) isn't known for his speed but could turn some heads if he's gotten faster over the past months.
Monday, February 25
With the numbers beginning to dwindle in Indianapolis, the activities will be limited to the defensive linemen, linebackers, and defensive backs on Monday. The defensive linemen and linebackers will finally get to hit the field, while the defensive backs will take their turn at the Wonderlic and bench press.
What to Watch For: Southern Methodist's Margus Hunt will be one of the most impressive athletes in Indianapolis and he'll likely wow many spectators on Monday. Will he show refined technique in his positional drills as well?
As a prospect that will largely be drafted on his athleticism and potential, Barkevious Mingo (Louisiana State) desperately needs a strong showing. As a player without much convincing play on tape, he could scare some teams off if he doesn't display strong measurables.
Tuesday, February 26
As the only players left at the Combine, all eyes will be on the defensive backs on Tuesday. They'll hit the field for their workouts on the final day in Indianapolis.
What to Watch For: Safety Jonathan Cyprien (Florida International) is riding the boost he got out of the Senior Bowl, and the strong showing that's expected of him during the Combine could make him one of the fastest risers in the draft. It's not out of the question he could be widely considered a first round pick by Tuesday evening.
David Amerson (North Carolina State) needs to silence some serious doubts in regards to his athleticism. He looked awfully slow on tape during 2012. If his work on Tuesday shows the same sort of results, he'll fall quickly down the draft board.